Working with Children Week – celebrating your work with children
Working with Children Week is 20–26 June 2022.
NSW celebrates Working with Children Week in recognition of the thousands of people who contribute to the lives of the state's children in education, sports, arts and community organisations.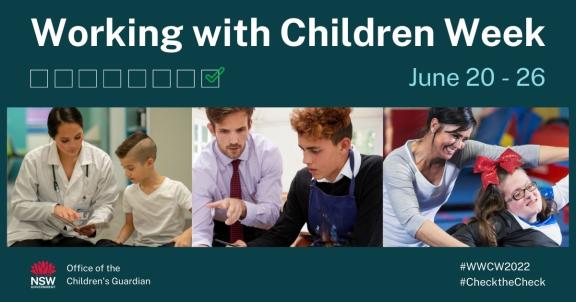 This annual event will also raise awareness of key child protection requirements in NSW including the Working with Children Check and the Child Safe Standards.
More than 1.8 million people hold a NSW Working with Children Check clearance in NSW for volunteer or paid work.
2022 theme – Child-focused leadership
Organisational culture drives how things are done. Leaders need to do their bit to make sure policies and processes provide the best protection for children by:
Acting as a role model in prioritising child safety
Verifying online the Working with Children Check number of volunteers and paid workers
Removing any barred or unauthorised person from child-related work
Setting clear rules and procedures so workers and volunteers know what is expected of them 
How can I get involved?
We have created a web page with resources, information and training to help support and celebrate quality leadership and all those who help children thrive.